Casino Parties Plus - Games & Pricing
Philadelphia Casino Parties Pricing – Customize Your Event!
Our Casino Games and Pricing
With Casino Parties Plus, you pick the party that suits your needs. Choose from our A La Carte Menu, or one our value-priced packages.
We can also customize a package to suit your needs and budget.
We offer free delivery and setup within 40 miles of Philadelphia.
No added charges, no fees, no gimmicks. Simple, honest pricing. It's how I do Business, let me bring my experience to you!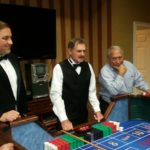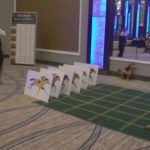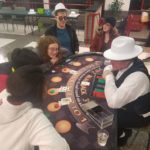 A La Carte Casino Game Rentals
(pricing includes up to four hours of play)
Blackjack $275.00 per table
Poker $275.00 per table
Roulette $300.00 per table
Craps $350.00 per table
Money Wheel $300.00 per table
Pai Gow Poker $300.00 per table
Mini Baccarat $300.00 per table
Slot Machines $500/bank of five
$5000.00 Putting Challenge – $750.00
Your guests will compete for an opportunity to take a 60 foot putt for $5,000.00!!
Wireless LED Uplighting $100.00 up to 12 lights
Make your event stand out!
"Run for the Riches" Is an exciting horse race style action in an interactive fashion.
Available $750 a la carte or $500 as an upgrade
All Prices Inclusive Of Table & Dealer
For FIVE YEARS!!!!!
Casino Game Rental Value Combos
Quick Birthday Party
Includes – 1 Blackjack, 1 Roulette, 1 Poker
Ideal for 25-40 guests $795.00
Corporate Pleasure Party
Includes -3 Blackjack, 1 Roulette, 1 Poker
Ideal for 40-70 guests $1295.00
The Big Get-Together Casino Party
Includes – 5 Blackjack, 1 Roulette, 1 Poker
Enough for up to 100 guests- $1799.00
Craps Table Substitution Available for $50.00
Add "Run for the Riches" Horse Racing $500.00
All packages include tables, professional dealers, and setup.
There are no hidden charges, fees, or sneaky add-ons. Chairs are not included.
No party is too small nor too large, put your trust with the best!!!
We also offer Texas Holdem Tournaments, the hottest form of poker being played. What better idea for your corporate party than a competitive, fun, and exciting poker tournament!
Call us to get your party started!!!     Email me at info@casinopartiesplus.com
Blackjack
$275.00 per table
Roulette
$300.00 per table
Money Wheel
$300.00 per table
Pai Gow Poker
$300.00 per table
Mini Baccarat
$300.00 per table
Slot Machines
$500/bank of five